Catchy title, huh!? Most of these days the only reading I have personally been getting done is for school for the girls. Sad, I know, but I have just been so tired lately that when my head hits the pillow, it's lights out for me. However, a few weeks ago I had the opportunity to read a new book called At Home in Dogwood Mudhole which is the first book in a three part series by Franklin Sanders.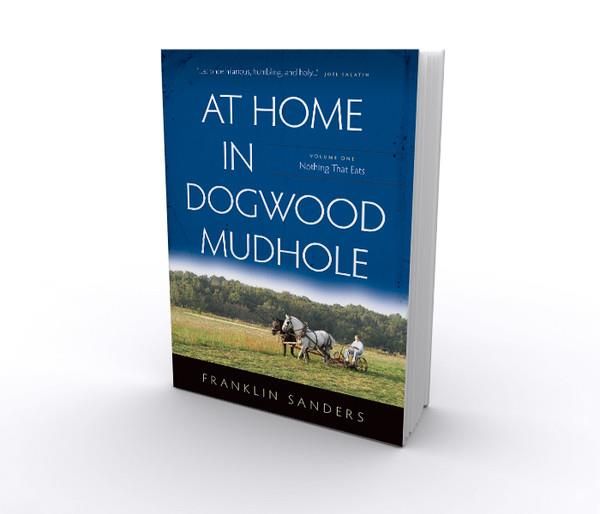 At Home in Dogwood Mudhole tells the story of Franklin and his wife, Susan, as the couple and their 7 children try to live self-sufficiently as the Y2K catastrophe looms. The book is actually a compilation of personal letters that Sanders has written every month for the last seventeen years for a newsletter called the money changer.
If you hear me say, "I'm too busy," hang up or hit me in the head with a hammer. I have just as much to do as God knows I need. I will delight in my work all day.

Through these letters Sanders shares the joys and sorrows of learning to be self-sufficient. Susan starts off by saying that "they acquire nothing that eats", however this book is filled with funny and heartwarming stories of how they gain dogs, chickens, cows, horses, ducks, sheep and a boatload of pigs. Each chapter in this 379 page book is able to stand on its own because of the journal like writing style. You can read a free sample chapter called Pig persuader by clicking on the link.

I chose to read this book as a personal reader for myself and not a read aloud.  At Home in Dogwood Mudhole, Volume 1: Nothing that Eats is the first in the At Home in Dogwood Mudhole series.  I received the paperback version which retails for $22.95 and is available on the Sanders website.  The book is also available in Kindle, EPub and PDF versions for $16.95.  The second volume, Best Thing We Ever Did, is also available right now in paperback and will be available in electronic formats very soon.
While, I enjoyed reading parts of this book some parts lost my interest. At no fault of the author. However, I did appreciate the values and life lessons that were sprinkled throughout the book of letters. Be sure to check out what my CrewMates thought of this book by clicking the banner below.

Company ~ Franklin Sanders from At Home in Dogwood Mudhole
Product ~ At Home in Dogwood Mudhole
Price ~ paperback $22.95; Kindle, EPub, PDF $16.95
Format ~ paperback and Kindle, EPub, and PDF versions
Ages ~ young adults and up