The girls LOVE to create little art projects and they especially love to paint! We were so excited when we were given the opportunity to review See the Light's Art Projects Repeated Sweets DVD.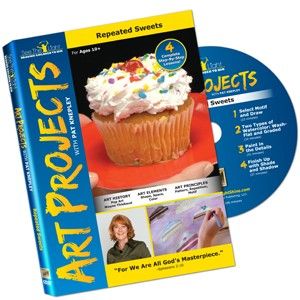 Repeated Sweets is a video based DVD that teaches you how to create a masterpiece in four easy and concise steps. Your master teacher, Pat Knepley, guides you through each step from choosing your treat to the finished final product.
See the Light is a Christian company that focuses on several different areas of art including music and fine art. The Repeated Sweets DVD is about 1.5 hours long but it is recommended that you allow 3 to 4 hours to fully complete your project. The DVD is divided into 4 step-by-step lessons and include:
1. Selecting your motif and drawing (23 min.)
2. Two types of Watercolor: wash flat and graded (24 min.)
3. Paint the details (31 min.)
4. Finish up with shade and shadow (27 min.)
This DVD is recommended for ages 10 and up and retails for $14.99. A box set is available for $99.99 and includes 9 Art Project DVDs on Tiffany Window, Repeated Sweets, Paper Jungle, Poppy Collage, Pointillism Fruit, Dreams of Joseph, Horsing Around, Peaceful Seas, and Sunflowers.
The girls had a blast watching this DVD and painting. Marie and Madison were my primary reviewers but Montana and McKenzie tried their hands at their own watercolor treats too. Mikayla, was not able to take part in this review because she was at practice when the lessons were done. However, we have enjoyed this DVD so much that I plan on purchasing the box set and working through them with Mikayla during next school year. Because these DVD's are so economically priced anyone can purchase them and provide there children with quality art instruction without breaking the bank and still bring out the little Picasso in every child.
Be sure to click the banner below to read my Crewmates reviews on all the different Art Project DVD's offered.

Company ~ See the Light
Product ~ Repeated Sweets
Price ~ $14.99 each
Ages ~ 10 and up