As a Classical homeschooling family we are quite familiar with Memoria Press and the whole array of products they offer. So imagine my delight when the Geography I bundle was offered to members of the Crew. Okay, I admit was so excited I did another one of my happy dances, you know the ones where the girls look at me like I am a bit off my rocker over curriculum.
Founded in 1994 by Cheryl Lowe, Memoria Press is a family-run publishing company that strives to provide easy to use classical curriculum for private and homeschool families. Written from a Christian worldview the company helps to provide three things: simplicity, quality and affordability.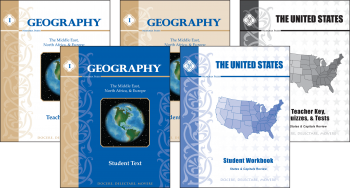 We received the Geography I bundled set which retails for $48.00 and includes:
Geography I Text, 103 pages - $14.95
Geography I Workbook, 90 pages - $11.95
Geography I Teacher Guide, 90 pages - $12.95
United States Review Student, 25 pages - $5.00
United States Review Key, Quizzes, and Tests, 95 pages - $7.95
Individual items can be purchased separately for the prices listed above.
From the website:
"Geography of  the Middle East, North Africa, and Europe covers the area that constituted the ancient Roman Empire. Each region is explored in its historical context in "History's Headlines," as well as in the present in "Tour of Today." Your student will learn countries and capitals of today and relate them to the ancient lands of the Greeks and Romans, deepening his understanding of both the past and the present." 
Each country is introduced with a basic introduction and includes "Fast Facts". a one page summary is also included with a summary of sections on the history of the country and also the current information. Important facts and illustrations are also provided to help you on your study. The goal of this program is mastery of the locations on the map and not as an in-depth study of the region. 
Quizzes and Tests are included in the Teacher Guide if you wish to test your child. The main goal of the Geography I course is for the student to master identification of each country on the map. It is recommended that the student study 2-3 countries per week.
Also included in the Geography I bundle is The United States Supplement that focuses on learning the Sates and there Capitals. US States are learned by regions:
~ New England States
~ Mid-Atlantic States
~ Great Lake States
~ Southern States
~ Plain States
~ Rocky Mountain States
~ Southwestern States
~ Pacific States
"This study guide will help students retain the knowledge they gained in their study of States & Capitals by reviewing each region of the U.S. four times throughout the school year. This review takes very little time and makes a great companion to Geography I: The Middle East, North Africa, and Europe." ~ from website 
With the 25 page Student Workbook your student will work through 4 sections.
1. Identify States by region on the map.
2. Match capitals of all 50 States by region.
3. Provide the name of each State based on the Capital and label the maps by region.
4. Identify State & Capitals from numbered locations on a blank map.
By the end of this comprehensive Geography study your child will have all of the countries of the Middle East, North Africa, and Europe, essentially the Ancient Roman Empire, and the US States & Capitals memorized. Geared towards grades 4-8 this curriculum is also conveniently scheduled out for you in the 4th Grade Classical Core Curriculum Lesson Plans. If you wish to use this curriculum with more than one child you must purchase separate books for each child as the workbooks are not reproducible. However, Tests and quizzes from the Teachers Guide may be copied within your own family.
I used this Geography I bundle primarily with Mikayla. We currently own the Classical Core Curriculum Lesson Plans for the 4th grade so we basically just followed the schedule as our guide. Following the plans we completed Geography studies twice a week, normally on Tuesdays and Fridays for review. If we got behind we easily were able to adapt our lessons and add another day. While you do not have to purchase these Lesson Plans it does make it quite easy for a box checker like myself for planning.
Like everything else from Memoria Press we are overly pleased with this product and wholeheartedly recommend you taking a look at it. We currently use several products from this company in our daily homeschool lessons and will be adding several more with our upcoming school year. We are going to continue using this Geography curriculum into next school year and move onto Geography II in the future and also add Madison in on our study. Be sure to read my fellow CrewMates thoughts on the Geography I bundle and Prima Latina curriculum by clicking the banner below.

Company ~ Memoria Press
Product ~ Geography I
Price ~ $48.00 bundle or items are available individually (see above)
Ages ~ grades 4-8

Disclaimer ~ I received a free copy of the
Geography I bundle in exchange for my honest review. I was not required to write a positive review nor was I compensated in any other way. All opinions I have expressed are my own or those of my family. I am disclosing this in accordance with the FTC Regulations.