We are seriously in love with our iPad! There are so many great apps out there, one of which is Rainbow Sentences from Mobile Education App. We had the opportunity to review this app over the last month to help solidify sentence structure.
Rainbow Sentences, which is for the iPad only, is designed to help students improve their ability to construct grammatically correct sentences by using color coded visual cues. The who, what, where, and why parts of sentences are color coded to help students recognize and understand how combinations of these parts create basic sentence structure.

                                                                                         ~from the website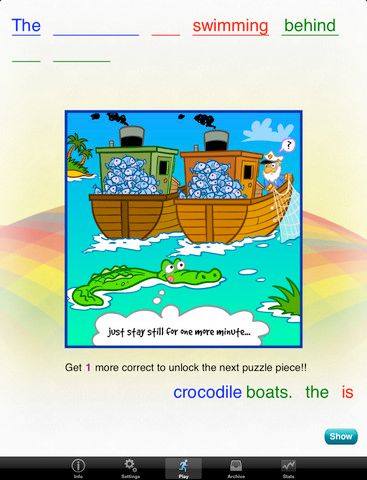 Rainbow Sentences has 3 levels of play learning with 3 degrees of difficulty in each level. Line Color Coding~ The lines above the picture story are color-coded with blue for the subject and red for the predicate, etc. Word Color Coding~ words are color coded to match the lines above for the correct part of speech. Word Grouping~ words are moved to the lines as a grouping of the part of speech rather than individual words. 
  In each level there is a picture shown about the corresponding sentence. Your child's job is to decode the sentence and put it in the correct order according to the color-coding. A feature that I love, is that as you move the words they are being read to you.  Great for the visual learner and the beginner reader. The goal behind completing the series of sentences is to complete a puzzle, which then becomes animated.
FEATURES
165 images to create sentence from
Intuitive drag and drop to create sentences
Words are spoken as they are being dragged for non readers
Words can be color coded for added visual support
Word groups can be selected to simplify sentence construction
6 levels of sentence complexity
Pictograph lessons to help students learn proper sentence construction
Record feature allows students to record sentences in their own voice
Save and email recorded sentences
Students earn puzzle pieces during play to encourage continued play
Puzzles come to life once level is complete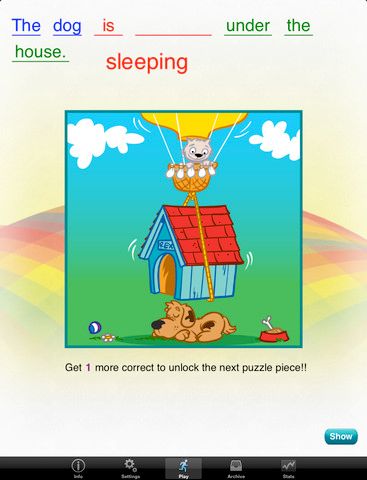 We have really enjoyed using Rainbow Sentences by Mobile Education Apps and would recommend it for a must have iPad educational app. I used this review with Mikayla (9) and Montana (5) and I have found the girls playing this game outside of school hours. I am not one to complain about that! Montana struggled a little bit at first but once I figured out the settings were not set right for her, she was able to play and figure out the words and sentences on her own. If you would like to watch a tutorial to learn more about Rainbow Sentences, click here. Rainbow Sentences can be purchased from the iTunes store for $7.99. Click right HERE to read what my Crewmates thought of Rainbow Sentences and the other reviewed item, Story Builder.
Company ~ Mobile Education Apps
Product ~ Rainbow Sentences
Price ~ Available in iTunes for $7.99
Ages ~ 4 and up
~~~~~~~~~~~~~~~~~~~~~~~~~~~~~~~~~~~~~~~~~~~~~~~~~
Disclaimer ~ I received Rainbow Sentences from Mobile Education App, in exchange for a thorough and honest review. Though I am compensated with free products, I am not compensated in the form of cash for my reviews. The opinions I have given are mine and may differ from others but are not influenced by the company or the free product provided.