The Story of the Thirteen Colonies & the Great Republic Set
and
200 Questions About American History Set
from
Memoria Press
! We are Classical homeschoolers who lean to the Charlotte Mason side and use quite a bit of Memoria Press curriculum in our yearly studies. If you are new to the homeschool area a let me tell you a little about Memoria Press.

Memoria Press (MP) is a family-run publishing company founded by Cheryl Lowe in 1994. The company creates simple, easy-to-use classical Christian education curriculum for home and private schools all over the world. Memoria Press's produces many popular Latin, logic, literature, and classical studies courses for children in PreK-12th grade. There products are written and field-tested with the students who attend the highly acclaimed Highlands Latin School. We were blessed to receive both of these sets from MP, let me tell you more about them.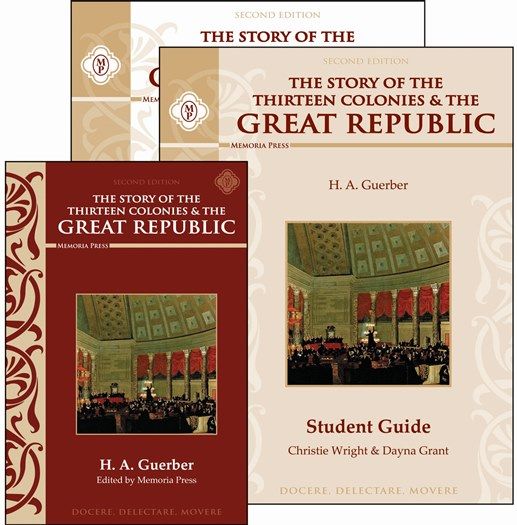 The Story of The Thirteen Colonies & The Great Republic set comes with a reader, a student guide, and a teacher guide. With 32 weekly lessons you will find a comprehensive study on American history from Native Americans through The Spanish-American War. Each lesson in the student guide is set up with the same four part format that includes:
I. Facts to know
II. Vocabulary
III. Comprehension questions
IV. Enrichment
The reader is a historical reader that can serve as an elementary textbook or supplemental book added to any history program. The chapters are short and sweet but don't leave out what is truly important in the events. All of the chapters include a picture or two about the chapter topic also.
The 200 Questions About American History Set includes of a set of flash cards, a Student Book and a Teacher Guide. This set works well with the The Story of the Thirteen Colonies & The Great Republic set I talked about above, however, it is meant to be used along with The Story of the World by Susan Wise Bauer and Everything You Need to Know About American History Homework by Kate Kelly and Anne Zeman. The student book also includes memorization practice in the form of famous poems and speeches. The flashcard set is a thick deck of heavyweight cards and includes four different categories of questioning including:
~ 150 drill questions
~ timeline dates
~ 44 U.S. Presidents
~ notable quotes


To help my children learn and remember the American history questions, we played in a Jeopardy style game on Thursday and Sunday nights. My girls loved the fast pace of the game and trying to gain points. Most importantly they were learning and retaining the information, a big plus in my book!
We loved everything about both of these sets. It is through and gets the job done!
Definitely take a peek at this set from Memoria Press and the other sets offered for review, First Form Greek Complete Set, and the Iliad & the Odyssey Complete Set by clicking the banner below.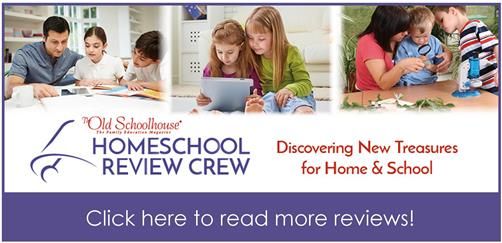 Company ~ Memoria Press (MP)
Format ~ physical book sets
Price ~ $48 and $27.90 respectively
Ages ~ grades 4-8

#hsreviews #memoriapress #classicalchristianeducation #classicalyhomeschooling #Memoriapress #classicalchristianhomeschooling










©2008- 2017 A Stable Beginning. All rights reserved. All photographs, text, artwork, and other content may not be reproduced or transmitted in any form without the written permission of the author.

History is an important subject in our house. After all, you learn not to repeat past mistakes from the history that is already complete. Well, in theory you do. We are studying the later half of American history this year in our homeschool but I wanted to give my 8th and 4th graders a refresher on early American History as well as we wrap up our school year. I was so pleased when I found out we were on the review for the