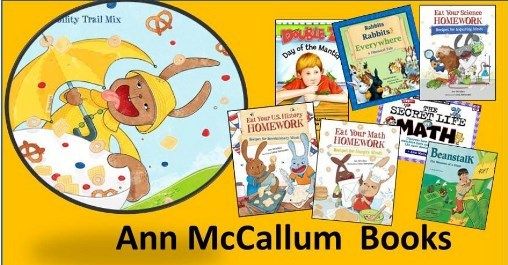 I have a real treat for you today if you like hands on learning! A few weeks ago we were given a copy of Eat Your U.S. History Homework from Ann McCallum Books and we have been enjoying it.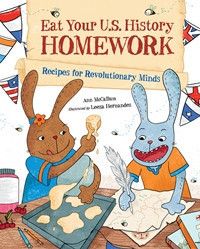 Eat Your U.S. History Homework is penned by Ann McCallum, who has written several books. She is a teacher by trade and started her career teaching in a one-room schoolhouse in northern Canada. Now she enjoys teaching high school in Maryland.
This awesome 47 page hardback book is jammed packed with history information on everything from the earliest settlers to the American Revolution and more! It's always fun to add a food component to anything you are learning about the past or present and this book does not disappoint. With recipes like:
Thanksgiving Succotash
Colonial Cherry-Berry Grunt
Lost Bread
Southern Plantation Hoe Cakes
Revolutionary Honey-Jumble Cookies
Independence Ice Cream
you are sure to find something just right to cook with your children.
It's not everyday you get to tell your kids to eat their history and learn about important historical facts at the same time. I did have to let go of my type -A tendencies and just let the girls do it, regardless of any messes and missteps. But that's exactly what I did with the girls and it was so much fun cooking with them.
The recipes are easy to follow and the illustrations are so cute and fit each page and recipe. The girls were able to follow the directions easily and sometimes with little to no help from me, except supervision.
We had fun making Independence Ice Cream. It was our first time making ice cream from scratch and the girls loved it! They have already thought of add ins they want to include on our next batch.
Overall we are so pleased with this book and have our eyes on the other books in this series, Eat Your Math Homework and Eat Your Science Homework, to add to our collection. Be sure to check out what my Crewmates thought of this book and the other titles being reviewed, Rabbits, Rabbits Everywhere: A Fibonacci Tale and Beanstalk: The Measure of a Giant by clicking the banner below.

Company ~ Ann McCallum Books
Product ~ Eat Your U.S. History Homework
Price ~ $15.95
Ages ~ all ages
Format ~ hardback book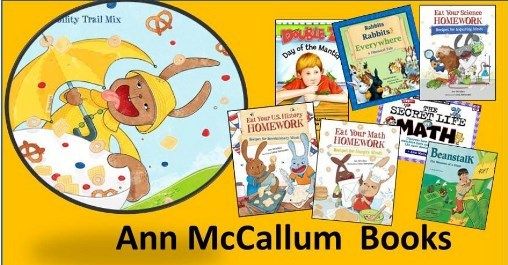 ©2008- 2015 A Stable Beginning. All rights reserved. All photographs, text, artwork, and other content may not be reproduced or transmitted in any form without the written permission of the author.