We love audio dramas here at A Stable Beginning, so I am excited to share with you this morning the next installment from
Brinkman Adventures
.
Are you up for an adventure?  If so then you are in for a treat with the new season of
The Brinkman Adventures
. Prepare to become immersed into an adrenaline filled journey as you travel the globe from Ecuador to Alaska with a group of modern day missionaries with
The Brinkman Adventures: Season 3
.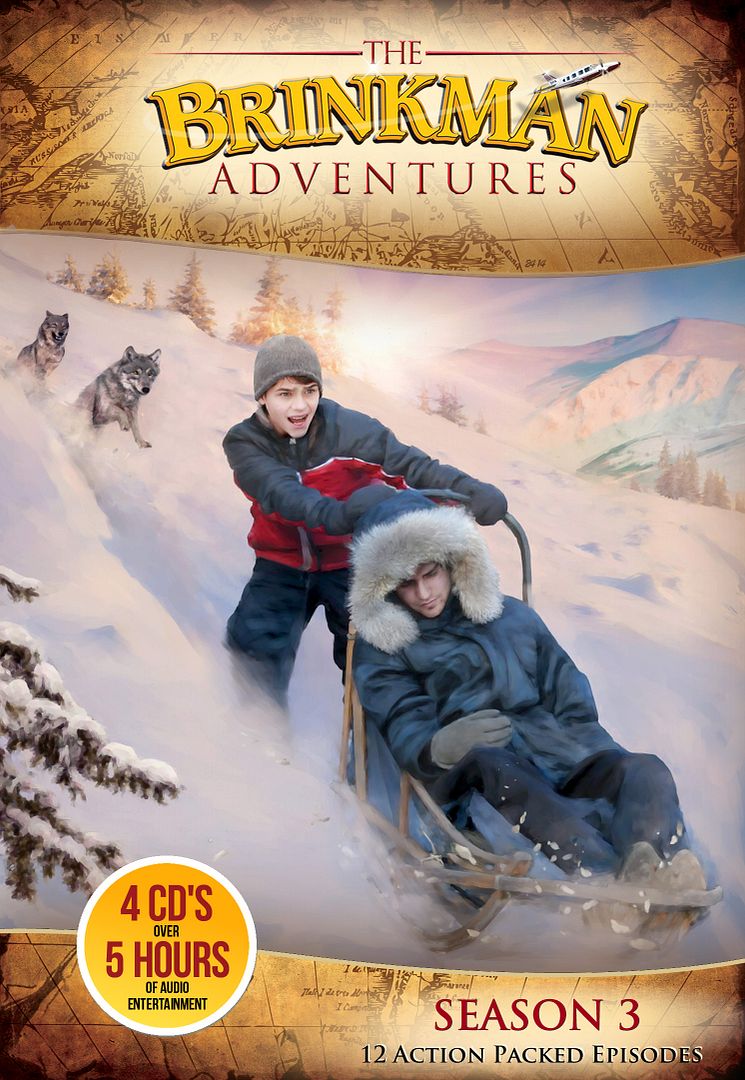 The Brinkman Adventures will take your family on a heart-pounding, exciting adventures all the while showing God's love for everyone on earth. We received Season 3 of The Brinkman Adventures which contains 12 action packed episodes on 4 CD's.  That's over 5 hours of  audio drama/entertainment, perfect for long road trips or just around town.
Episodes include:
DISC 1
1. God's Mule
2. Mountain Mover
3. The Silent Ambassador
DISC 2
4. Translating Trouble
5. Man-Up
6. Acorns & Oaks
DISC 3
7. A Saint's Story, prt 1
8. A Saint's Story, prt 2
9. Untouched
DISC 4
10. Busy Bees and A Bullhorn
11. Missionary Tourist, prt 1
12. Missionary Tourist, prt 2
The Brinkman's are not just your normal everyday missionaries. They are a modern day, large family with 9 children, whose powerful stories come together through the wild and crazy adventures they take to share God's word. Their escapades will inspire the old and young and strengthen your faith to love and follow Jesus with all your might.
We spend a lot of time in our van driving here and there each week and while listening to the popular kids satellite radio is fun, one does quickly tire of hearing the same songs looping over and over. I was so excited to be able to pop this audio drama cd into the CD player for something different. We have listened to many audio books before but nothing is quite as exciting as The Brinkman Adventures. From the very beginning, everyone in the van is completely immersed and listening intently to the stories to not miss a beat.
Everyone in our family has thoroughly enjoyed this CD many times over.  Our family's favorite story from this CD would have to be episodes # 7 and # 8, A Saint's Story, prt 1 & 2. This story tells about, Steve Saint, the son of Nate Saint, a missionary pilot who was killed in 1956 along with 4 other missionaries by the Waodoni tribe. As a young boy Steve lived with the Waodani, including one of the men that killed his father. Over time Steve learned to put the past behind him and forgive and help the people of the tribe. They especially needed help with dental care and the tribe expressed interest in learning to fly.
The Brinkman Adventures are available to purchase by season on CD for $27.99 or on MP3 download for $17.99. The prices listed are suggested donations but trust me they are worth every cent and more! Be sure to click HERE and download your three FREE episodes and sign up for Brinkman's quarterly newsletter. You also have the chance to win a full CD set of Season 3 for the whole month of November! I know you will be thoroughly impressed and want to know more, so do click over ASAP! Our family can not wait for more adventures with The Brinkman's!
Be sure to check out what my Crewmates thought by clicking the banner below.

Company ~ The Brinkman Adventures
Product ~ The Brinkman Adventures: Season 3
Price ~ CD for $27.99 or MP3 download for $17.99
Ages ~ Families of all ages
Format ~ physical CD or MP3 download


©2008- 2015 A Stable Beginning. All rights reserved. All photographs, text, artwork, and other content may not be reproduced or transmitted in any form without the written permission of the author.