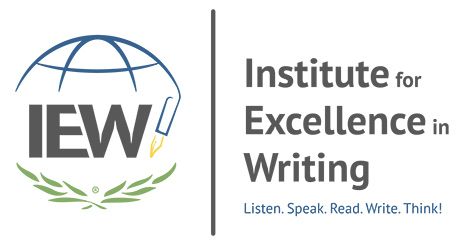 Teaching writing can either strike fear into you or make you giddy. I have been hovering between the two camps for the last few months as I was planning for next school year. You see, I have a reluctant writer. One who dreads putting pen to paper and avoids it at all costs.  We have dabbled with many writing programs before, but none just quite fit. I was so blessed to be chosen to review the Deluxe Combo Teacher/Student Writing Package Level B [FIX-1 & 2], A Word Write Now, and Portable Walls from Institute for Excellence in Writing (IEW).
If you have been on the homeschool scene for any length of time I am sure you have heard of Mr. Pudewa and the company, Institute for Excellence in Writing (IEW). His mission is to teach children "…to write well, think clearly, and express themselves eloquently and persuasively." Yep, that's what I am aiming for with my students.
I was so happy when I received my shipment notification, and   I will admit to stalking my mailman waiting ever so patiently for my box to come. When my box did arrive, I did a happy dance as I unpacked the contents. Inside the box we received: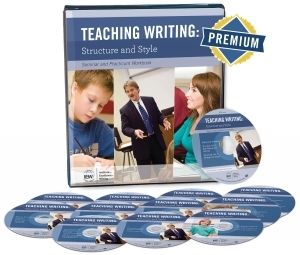 Teaching Writing Structure and Style, including the Premium Subscription ~ Is just for the teachers. It includes 12 DVDs, 9 of which teach the Structural Models and Stylistic Techniques IEW is known for, and the last 3 DVDs contain each of the four different levels of student workshops, with over 14 hours of instruction. Also included are a Seminar and Practicum workbook along with a premium one year subscription. The Premium Subscription includes one year of access to streaming videos of the DVDs, audio MP3 files of Andre Pudewa's most popular talks, PDF downloads of handouts and access to monthly training.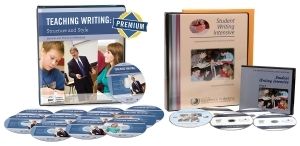 Student Writing Intensive, Level B (SWI-B) ~ contains 5 DVDs, 4 of which are the actual lessons. The 5th DVD is a parent overview of the Stucture & Style method for the parent/teacher. A handy three ring binder and student pack that contains the scope & sequence, teacher's notes and student handouts are also included. SWI-B is geared towards students who are in 6th-8th grade.
~ Two Fix-It! Grammar: Books 1 & 2  with hard copy for the teacher book and student e-books ~ Fix It! Grammar was developed by Pamela White after she was frustrated with traditional methods of teaching children grammar. It is the newly revised language arts series that teaches the principles of grammar through real stories. The real stories use sentences that contain errors that your student may make in their own writing. The principle of parsing a sentence and finding the errors helps students in the long run learn correct grammar and punctuation.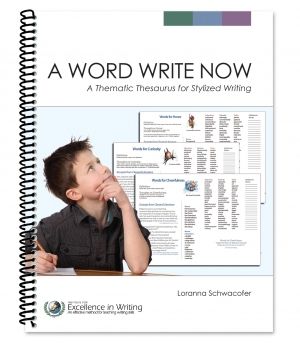 A Word Write Now Thematic Thesaurus ~ this is a 108 page spiral bound book that covers Character Traits, Descriptive Words, Words for Movement and the Senses, and an Appendix. This book is choke full of helpful words to help your child in their writing.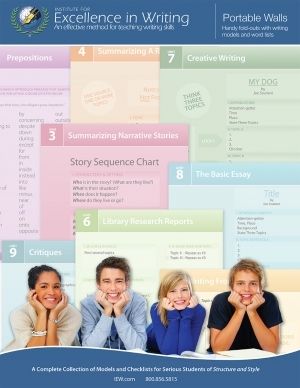 Portable Walls ~ this handy tri-fold pocket folder includes lists and charts that you would normally hang on your wall but can't because you lack space. Everything included on here will gives your student access to the literary model to library research.
After speaking with a friend who is a longtime IEW teacher about combining my younger girls, Mikayla (12) and Montana (8), I also purchased:
The Writing Source Packet (WSP) for $29.00
I started out by refreshing my memory of the TWSS by watching the two DVDs so that I would be ahead of the girls. To combine Mikayla and Montana, they both watched the SWI-B DVDs and I used the WSP for Montana so she would have a source at her level. Mikayla worked with the B documents fully. I love that IEW includes a schedule that tells me what to watch and what to do. It helps me as a box checker to know that I am following the program and getting things done too.
Writing has been slow go, but I can confidently say that my reluctant writer is making strides. There have been many days when I wanted to throw in the towel and give up. But we have stuck with it in bite size chunks. After all, its not a race to the finish line in my book. It's about making progress and gaining a confident writer who can express her thoughts clearly on paper.
Be sure to check out what my CrewMates thought of this program and the others being reviewed by clicking on the banner below.

Company ~ Institute for Excellence in Writing (IEW)
Product ~ Deluxe Combo Teacher/Student Writing Package Level B [FIX-1 & 2] PLUS A Word Write Now and Portable Walls
Ages ~ 6th-8th grade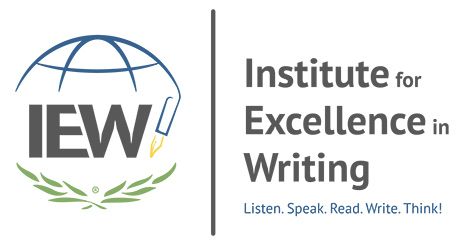 ©2008- 2015 A Stable Beginning. All rights reserved. All photographs, text, artwork, and other content may not be reproduced or transmitted in any form without the written permission of the author. http://astablebeginning.com