This great country of ours has so many exciting places to explore. My girls love to take field trips and travel, especially during competition season. We were excited to get our hands on the new Exploring Creation Field Trip Journal to review from Apologia Educational Ministries to help us preserve the memories built on taking these special trips.
We are huge fans of Apologia Educational Ministries and the products they produce! When most people hear Apologia's name mentioned they immediately think of their award winning science programs for elementary through high school.  But did you know that they also offer Christian worldview curriculum and books too? Over the last few years, the girls and I have had the pleasure of using and reviewing several curricula and now we have been given the opportunity to review there newest field trip journal book.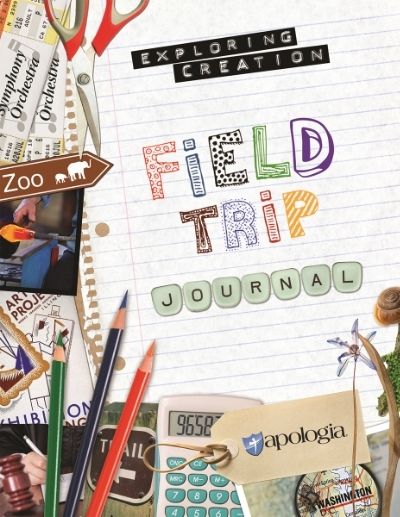 This Field Trip Journal is a 64 page, 8 1/2" X 11" spiral bound notebook that is choke full with a variety of features and tips to help you make the most out of your field trips including special pages:
Preparing for a Field Trip ~ includes a checklist for the week before a trip, the night before, on the way, and at the field trip.
Field trip ideas ~ a two page spread with ideas for trips from your backyard to all over the world. Apologia also includes a special code to access state maps and virtual field trip ideas at the bottom of this page.
Places I've Explored ~ several pages to write down where you have traveled as well a handy map of the US that can be colored in.
Specific Trip Pages ~ are to record all the pertinent information of the trip you took. Space is included for where you went, the time of day for your trip, any book resources you may have used prior to taking the trip and a spot to include your favorite moments. With space for emergency contacts and photos, this is the place where you can make the journal your own.There are 10 of these pages included in the journal.
My Special Spot ~ includes 4 pages, one for each season, so you can take time to enjoy and notice the fascinating changes that take place in your special spot in the world. Your special spot can be anywhere you choose, just as long as it is a wild, unmaintained spot.
As I See It ~ provides blank page space to draw your favorite things from your trips.
I love everything about this journal, from the thick, heavy cardstock to the bright colorful pages. You will not have to worry about markers bleeding through the pages or making indents on the next page. I especially appreciated all the field trip ideas. It's nice to have ideas to places I would not have thought of on my own. Our first field trip with did using this journal was to go strawberry picking with our Girl Scout troop. I love that we were able to keep a keepsake journal of this special time with our Girl Scout friends. And for just $22.00, its a great deal for us!
Be sure to check out what my CrewMates thought of this journal by clicking the banner below. Also, take a sneak peak at some of the sample pages.

Company ~ Apologia Educational Ministries
Product ~ Exploring Creation Field Trip Journal
Price ~ $22.00
Ages ~ all ages


©2008- 2015 A Stable Beginning. All rights reserved. All photographs, text, artwork, and other content may not be reproduced or transmitted in any form without the written permission of the author. http://astablebeginning.com