Some days I feel I should just paint my van yellow because I spend a great deal of time driving to and from the gym and to the ball field in the spring and fall. Thankfully, I have found a new passion to keep me busy while driving, Audio books. Audio books and audio theater are my new favorite things to listen to while I am out and about. A few weeks ago we were asked to review the new audio drama from
Heirloom Audio Productions
called
In Freedom's Cause
.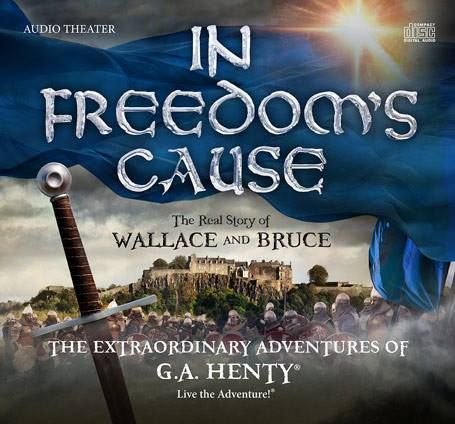 We received
In Freedom's Cause Single Package
which
includes:
The two CD set of this high energy and fast pace story focused on building character for the next generation while bringing history lessons to life within the chapters. With the extremely high quality audio reenactment of this story it is perfect for ages 6 years old to adult. My youngest daughter who is 5 years old has also enjoyed this radio drama too!
The two disk story comes in a handy fold out CD case and includes a study guide booklet. The study guide is broken up into three sections for each chapter:
Listening Well ~ includes comprehension questions to make sure you are understanding the story
Thinking Further ~ have your child think a little bit with these questions to increase understanding of the characters actions or intentions.
Defining Words ~ enhance the understanding of the story by knowing what selected vocabulary words mean prior to listening.
As part of this review, I also received a PDF copy of the study guide which is just an expanded edition of the one included in the CD set. The study guide also includes three brief Bible study suggestions to help you and your child gain a clearer understanding of godly character.
There are several purchasing options to order In Freedoms Cause directly from Heirloom Audio Productions including:
$20.00 for an audio MP3 download that gives you instant access and includes bonuses like the Study Guide and printable copy of The Prayer Of William Wallace (Psalm 23 in the Latin Vulgate).
$29.95 plus $6.95 shipping gets you the two CD set plus the two bonuses above and the MP3 download.
$99.97 plus $9.95 shipping gets you the Family Four Pack this gets you 4 CD sets, all of the bonuses mentioned above, plus 5 additional bonuses: 30-minute video documentary download titled, "Behind The Scenes In London". Free unlimited access to the In Freedom's Cause Membership Website. G.A. Henty's original In Freedom's Cause E-Book with all new colorful graphics. A professionally designed, printable promotion poster featuring the star-studded cast of In Freedom's Cause.
$249.97 gets you the "Patriot's Freedom Package" which includes 25 CD sets to give away to friends and family. This set is great for churches, community groups or to give to extended family members.
All of the prices listed above come with a 90 day money back guarantee if you are not satisfied.
Since we are on the go almost every day of the week we strictly listened to this while traveling. The girls were silent as the story played, eagerly listening for each detail. Sometimes we would stay in the van until a chapter had ended just so we could hear the end of the story. I really like the fact that the stories where numbered so we could find our spot quickly.
So, what's the bottom line?! I was so excited when this new audio CD arrived in the mail! We love this CD and the values that are represented. I would recommend this product to any and all looking to add a bit of family friendly audio / radio drama into the home. The girls and I are especially excited to hear that another installment from Heirloom Audio Productions, With Lee in Virginia, will be released soon. Cant wait to check it out and add it to our collection too!
Be sure to see what my Crewmates thought of In Freedoms Cause by clicking on the banner below.

Company ~ Heirloom Audio Productions Product ~ In Freedom's Cause Price ~ see different pricing option above Ages~ 6 years old to adult