Whether you are a mom of many or just a few there is a lot to get done in one day.  Are you feeling a little disorganized? Is you house not as tidy as you would like it to be? Well, today I think I have the perfect solution for you. It's called Motivated Moms Ebooks from Motivated Moms.
Motivated who? Motivated Moms is a fantastic chore planning system that helps you clean and organize your house so that you still have plenty of time for yourself at the end of the day.  Originally created back in 2005 by Deann Polanco and Janet Russell the chore planning system has evolved to what it is today with the help and direction of Susan Cramer.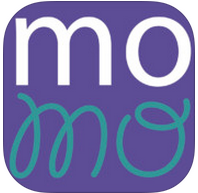 Motivated Moms is a great tool for anyone who likes checking things off and seeing the list of things get done. That would be ME! Available in printable ebook format or as an app for your iPhone/iPad/iPod touch or Android device there is sure to be a format just for your liking. And for just $8. for a whole printable year for the paper planner you get a whole lot of organization.
The system is designed to help you complete chores and tasks throughout the year so that you don't spend your entire day doing housework.
The printable eBook comes in 8 different versions: black and white, color, full size, chore size and with or without scripture reading. We were blessed to be able to choose, the 2014 full sized color Planner with Scheduled Bible Reading.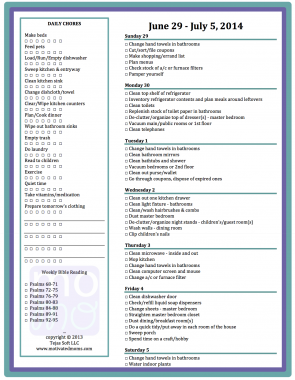 To get me started I printed off one month of the chore schedule and used the double sided feature on my printer. It saves paper and makes it easier for me to keep track of things.  Once printed I broke out the highlighters and started delegating chores to the girls with each corresponding color so everyone was on the same page as to what was to be done each day.
With seven people and soon to be eight people when little Micah is born, this has been a lifesaver for me. It helps me make sure that things get done around the house each day, a little at a time without anyone being overly stressed out. Also, it helps the girls know what they need to get done each day without being asked. I especially like the full size planner so that I can see at a glance what chores are being done each week. If I have a busy day one day, I can easily schedule the chores for another day.
I have to say that I love this product and foresee myself using it for many years to come. With such an affordable price I think it is right for many budgets. Be sure to check out what my Crewmates thought of the eBook format and the app format that was also reviewed by clicking the banner below.

Company ~ Motivated Moms
Product ~ Motivated Moms Ebooks
Price ~ $8.00 downloadable eBook