Do you know the word that strikes fear into most school aged children? You guessed it, HOMEWORK!  EGM Educational Systems, LLC has developed a great reading system called READS Parent/Child Reading Comprehension System to help struggling readers master reading. Let me tell you a little more about it.
READS, which stands for Really Easy Dynamic Strategies, is a Parent/Child Reading Comprehension System developed by Elaine Meyers, a reading specialist with over 25 years of experience. READS was designed to help the parent work with his/her child to improve reading comprehension skills efficiently and as painless as possible.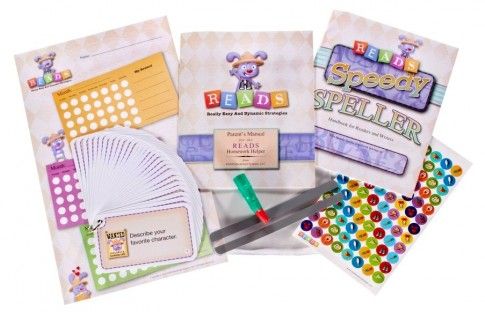 We received the complete READS Parent/Child Reading Comprehension System that is designed for children in grades 1-4. The system includes:
READS Parent Manual ~ Explains in detail how to use the READS program including all the questions on the Question Cards with helpful tips for using with your child.
Question Cards ~ 30 question cards conveniently on a ring to help get the dialogue started. Each card also contains a visual clue that matches the question on the card.
Reward Charts & Stickers ~ Keep track of your reading goals and track progress with this convenient chart. The parent manual offers helpful suggestions for reward ideas.
Magic Finger / Reading Guide Strip ~ Keep track of each word using this fun Magic Finger. The Reading Guide Strip highlights only the words to be read and blocks out any text above and below.
Speedy Speller ~ With 1400 words the Speedy Speller is perfect for helping your child find commonly used words, abbreviations and more. A definite go to handy dictionary of sorts.
Reusable Storage Pouch ~ Contain all the above goodies in an handy Phthalate free vinyl storage pouch with a Velcro closure.
The READS system is effective for readers below, at or above grade level and meets all Common Core Standards. Retailing for just $19.95 it works with any reading material and makes reading homework fun and exciting for both children and parents.
I used the READS with Mikayla, 4th grader and Montana, K'er. The reading strip and Magic Finger were a favorite part of the program for both. The Question cards helped me tremendously. They are quick and easy questions so that I can make sure that Mikayla really did understand what she read. Also, the Speedy Speller has come in handy several times. It is small enough to keep in Mikayla's binder for when she needs help spelling a tricky word.
The rewards chart I used mainly for Montana as she is learning to read for a sustained amount of time. Currently I have the time set for 20 minutes, some days that is easier said than done, but the reward chart has helped. She knows the goal she is shooting for. Currently she is trying to fill her chart up so that she can go to the "BIG" pet store to check out the Parrots.
Overall, I found this to be an excellent tool for our family. I would encourage everyone to give it a look and see if it would work for your readers. Be sure to check out what my Crew Mates thought by clicking the banner below.

Company ~ EGM Educational Systems, LLC
Product ~ READS Parent/Child Reading Comprehension System
Price ~ $19.95
Ages ~ 1st – 4th grade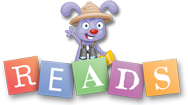 Disclaimer: I received the READS Parent/Child Reading Comprehension System through the Schoolhouse Review Crew in exchange for my honest review. Though I am compensated with free products, I am not compensated in the form of cash for my reviews. The opinions I have given are mine and may differ from others but are not influenced by the company or the free product provided. I was not required to write a positive review and all opinions I have expressed are my own or those of my family. I am disclosing this in accordance with the FTC Regulations.