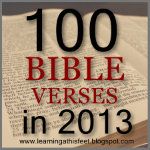 This year the girls and I are teaming up with over 270 people to memorize the 100 Bible Verses Everyone Should Know by Heart by Robert J. Morgan. For the next 50 weeks we will memorize 2 verses each week.  I am up for the challenge and so are the girls. How about you?There is still time to sign up and the book  only costs $10.19 for paperback or $2.99 for the Kindle edition on Amazon. But don't let the price of the book stop you! The sweet lady hosting, Shanna, has made up a list of the versus in a Word document for both King James Version and New King James Version.
Week 1's verses are familiar to most, especially if your children were ever in AWANA.
Gensis 1:1
In the beginning, God created the heavens and the earth.
John 1:1
In the beginning was the Word, and the Word was with God, and the Word was God.
So, won't you join us? Sign up on Facebook at the link HERE.