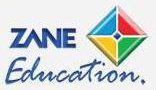 Remember when you would walk into your classroom and at the sight of the T.V. cart would silently or verbally rejoice because that meant it was movie day? I remember those days of watching movies in the classroom. Just because we are homeschoolers does not mean I can not give my girls those short little movies/documentaries. Enter into the picture Zane Education.
We have been using Zane Education for the past few months.  Zane Education is the world's largest and most comprehensive library of fully subtitled educational videos currently available online, with subtitles. Zane offers over 1500 curriculum-based online educational videos for 11 different subjects and 260+ curriculum topics. Videos are available for grades K-12 as well as adults.  Perfect for the visual learner these videos can be utilized in schools or for home educators. The videos are also a great resource for those with special needs, ESL, and/or gifted.
With over 94% of teachers now regularly using video in the classroom as an effective teaching aid, there has been a dramatic increase in number of websites attempting to provide the use of educational video online. Yet virtually without exception, all those video providers have overlooked the inclusion of the single most important feature that arguably provides the most important educational benefit for students – the Subtitles, or otherwise known as Closed Captioning.                   

                                                                                    ~ from website

 
Video subjects available include:
*Art
*Biology
*Geography
*Health
*History
*Library Skills
*Literature
*Music
*Religious Studies
*Science
*Social Studies
While the videos are presented mainly from a  secular perspective, a Christian Learning Guide is also available. The Christian Learning Guide tells you what may be offensive for Christians in every single video. Also available are several other  helpful Publications, including a video catalogue. These guides come standard with the Gold Membership level , but are available for purchase independently. Another feature I enjoy are the PDF lesson plans for the videos.  They include comprehension questions, discussion and debate questions, vocabulary, activities, and research and essay assignments. These are fabulous!

With 5 Membership options there is something for everyone at Zane Education! Basic FREE Membership, Gold Membership, Silver Membership, Bronze Membership and Topic Taster Membership. Monthly subscriptions range from $5.00  to $17.99 per month. A Gold Membership costs just $198 for the whole year.

But wait! Zane is generously offering Schoolhouse review crew blog readers 35% off any annual gold, silver, or bronze membership purchased by August 31, 2012! Use code ZE325HSM at checkout to receive discount and that brings your Gold Membership to less than $130 for the year!

With so many videos to choose from Zane Education has been a huge blessing to our family.  I recommend you try them out and see if they would be a good fit for your family. I am making plans to include these worthwhile videos into our weekly  lesson plans. There is truly something for everyone. Be sure to check out what my Crewmates thought by clicking the banner below.

Product ~ Zane Education

Price ~ click here for membership pricing

Ages ~ K – adult

~~~~~~~~~~~~~~~~~~~~~~~~~~~~~~~~~~~~~~~~~~~~~DISCLAIMER: I received a year Gold Level subscription to Zane Education, in exchange for a thorough and honest review. Though I am compensated with free products, I am not compensated in the form of cash for my reviews. The opinions I have given are mine and may differ from others but are not influenced by the company or the free product provided.