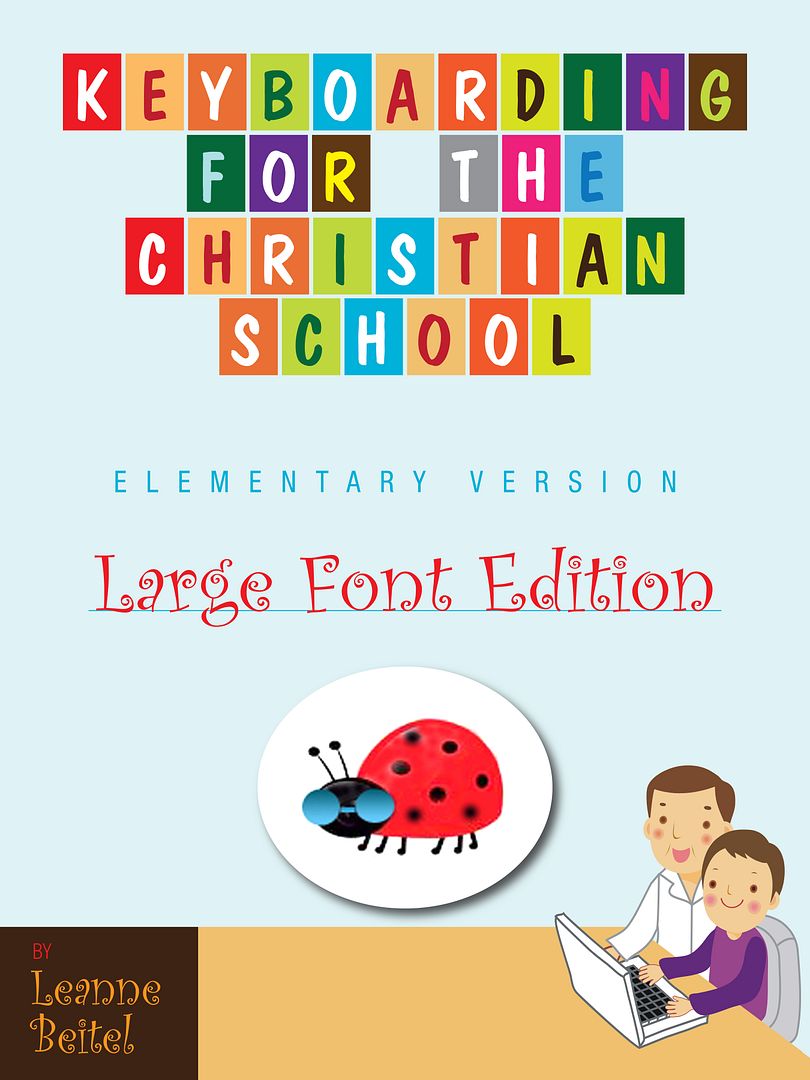 Looking for a typing program for your children to learn how to type? I have a great program to tell you about today called Keyboarding for the Christian School.
Leanne Beitel has produced an award-winning E-book called, Keyboarding for the Christian School Elementary Version, to help your elementary students learn to type. With the help of a ladybug named Miss Mabel, your child will learn the basics of the QWERTY keyboard. God's Word is incorporated into the lessons so your child can continue hiding them in their hearts.
With 32 brief lessons this program is geared towards the K-5th grade crowd. However, I used this with my rising 6th grader with no problem. With 12 helpful touch typing techniques like sitting up straight, keeping your feet flat on the floor, and keeping elbows naturally at your side, your child will be done hunting and pecking at the keyboard in no time at all.
Also included is a color coded key chart at the beginning of each lesson. This came in handy when Madison forgot the placement of a key. Want a sneak peak for yourself? You can   signup for their newsletter see a sample lesson here. I appreciated the straight forwardness of this program. I was looking for a typing program that was not game based or cartoonish and this is the perfect fit for our needs. Keyboarding for the Christian School is a solid, touch typing instruction that you can use over and over again with excellent results. We recommend this program and will continue using it for Madison into the fall schedule.
If this sounds like it would be a great fit for your family you can download the E-book version for just $12.95. A large-print version is also available for the same price. If you are more of a hard copy kind of family, that costs $45 and included shipping and handling.  For a short time use this special coupon code for 20% off of your purchase - SUMMER2012. Expiration: 8-29-2012.
Be sure to click the banner below and see what my Crewmates thought!

Company / Product ~Keyboarding for the Christian School Elementary Version
Price ~ E-book versions $12.95, hard copy $45.
Ages ~ Elementary students, K-6
~~~~~~~~~~~~~~~~~~~~~~~~~~~~~~~~~~~~~~~~~~~~~~~~~DISCLAIMER:I received a copy of Keyboarding for the Christian School Elementary Version, in exchange for a thorough and honest review. Though I am compensated with free products, I am not compensated in the form of cash for my reviews. The opinions I have given are mine and may differ from others but are not influenced by the company or the free product provided.