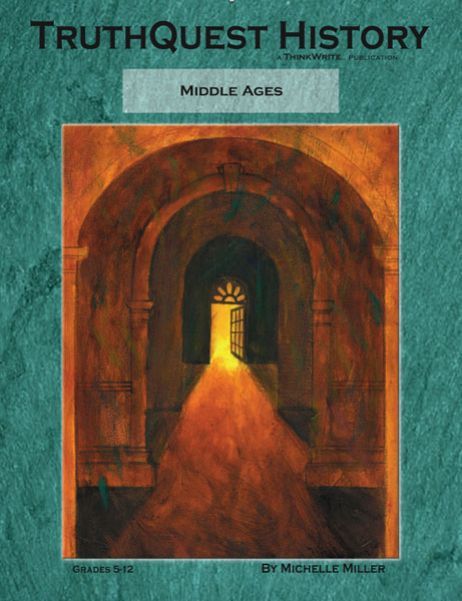 History does not have to be boring!  Your study of History should come alive so that you can experience the wonders of the One who made mankind. I will be honest here, when I received the Truth Quest History Guide on the Middle Ages at first glance I was not impressed.  We were in the mist of our super busy competition season and I was a bit stressed, so I set it down for a week and then took a look at it with fresh eyes.
TruthQuest History is a deep and rich literature-based history study…but with a difference. You will not learn the story of mankind; you will learn the lovestory of mankind. You will not focus on the rise and fall of human civilizations; you will focus on the arrow-straight line of God's unchanging existence, power, love, truth, and plan for civilization. You will not simply 'meet the culture' or 'get the facts;' you will probe the truths of history so deeply that your students will be equipped to change their world!

                                                                                 ~from website
Wow, was I wrong!!! TruthQuest is an awesome guide filled with wonderful booklists and not some boring textbook that we learned history from in our schooling.  As a literature based curriculum your children will be learning from real books that  bring history alive and make it meaningful and easy to remember. With no schedule to follow you follow the rabbit trails that you come upon and delve into further areas of interest. Or you can omit some items or add in what you like.   What is a literature based curriculum without book lists? TruthQuest includes a massive list of books and resources to further aide in your study. I loved this, everything was nice and neat and easy to find and my library had a majority of the books listed. In the Middle Ages Guide you will be studying some of the following areas/people:
Beowulf

Mighty King Arthur

Augustine

Islam

Norman Conquest

Crusades

Stained Glass Windows

Knights

Bubonic Plague

The Hundred Years' War

and much, much more
All in all this is an awesome history curriculum that I would recommend for anyone looking for a chronological, literature based program.  It is available in print or PDF download formats and it is economically priced at $24.95 for print copies and $19.95 for PDF. Truth Quest can be your spine or you can pair it with another History program for the best of both worlds. I plan on purchasing the TruthQuest American history binder builders to go along with my 4th graders study for next school year. Check out what my crewmates thought of TruthQuest and the other 10 guides that are available by clicking, here.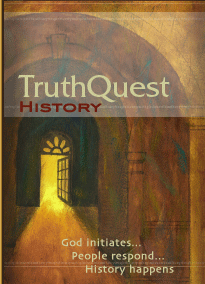 Company ~
TruthQuest History
Product ~ Middle Ages, Level II
Price ~ $24.95 print, $19.95 PDF
Ages ~ 5th –12th grades
~~~~~~~~~~~~~~~~~~~~~~~~~~~~~~~~~~~~~~~~~~~~~~~~~ Disclaimer : I received a PDF copy of TruthQuest History guide, Middle Ages, in exchange for a thorough and honest review. Though I am compensated with free products, I am not compensated in the form of cash for my reviews. The opinions I have given are mine and may differ from others but are not influenced by the company or the free product provided.