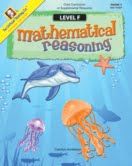 My 5th grader, Madison has been plugging away at the new Mathematical reasoning, Level F book from The Critical Thinking Company. With 384 pages it is a whopper of a book that we have been using as a supplemental resource to our favorite math program with great success.
The Critical Thinking Co. is a family-owned business that has been "empowering the mind" for more than 50 years. They sell critical thinking products/supplements that cover reading, writing, mathematics, science, and history. Instead of rote drilling and memorization, students are encouraged to "carefully analyze what they are learning." The Critical Thinking Co. is on a mission to develop the critical thinking skills in all children. They currently have 12 books in the series for Mathematical reasoning books ranging from PreK – 9th grade that are standards based on the National Council of Teachers of Mathematics (NCTM). By using these books in the course of your homeschool, or afterschool/summer school, your child will see their grades improve and score higher on tests.
This book is designed to foster a cooperative experience between you and your student. The highly effective activities teach fifth grade math skills and concepts-and some sixth grate math standards. The skills and concepts presented spiral throughout the book. This means that you will see a topic dealt with for a few pages and then a gap before it is covered again. We do that so the student has multiple opportunities to think about and apply the skill/concept.

~ excerpt from book

This is a hefty book and it does not disappoint. It is presented in a sprial approach, the same as our favorite math program, so Madison took to it right away. The author, Carolyn Anderson, suggests that the student work through the book page by page rather than skipping around because of this. While completing this book your student will learn the required skills/concepts for 5th grade and be introduced to skills/concepts for 6th grade as well. All of the books in the Mathematical Reasoning series are designed to make the student think critically. If you are just starting in the series your child may find that it is quite challenging, but stick with it! They will eventually catch up and progress through the series just fine.
We have truly enjoyed using this book. We started out by just using it once a week but Madison begged for more! How can I turn down a child begging for Math!?! We are now using it daily and I can see the improvement in her math. In the future I plan to use the Level F book for my younger girls so I have just been photocopying the pages for Madison's use. I plan to cut the binding off and have the pages three hole punch and the placed in a binder for ease of use on my part. It would be fantastic if there was a PDF version available for purchase.
Because I have had to "regroup" with Mikayla's math program for the rest of this year and into the summer, I have already placed my order for the Level D book for her. I look forward to starting her in her new book next week ! I have to admit these books are a bit pricey at $42.99, but as the saying goes "you get what you pay for", and that is most definitely true with The Critical Thinking Company. I am sold on these books!
Head on over to The Critical Thinking Co.'s website and see all of their Award Winning Core Curriculums, Pre-School Academics, and National Award winning products that have been helping students for over 50 years. Also, don't forget to check out what my Crewmates thought of this book and the other three books that were up for review, Balance Math Teaches Algebra, Crypto Mind Benders Famous Quotations , and Inference Jones: Beginning by clicking here.
Company ~ The Critical Thinking Co.
Product ~ Mathematical Reasoning, Level F
Price ~ $42.99 but currently on sale for $37.99
Ages ~ 5th grade
~~~~~~~~~~~~~~~~~~~~~~~~~~~~~~~~~~~~~~~~~~~~~~~~~Disclaimer ~ I received a copy of Mathematical Reasoning, Level F, in exchange for a thorough and honest review. Though I am compensated with free products, I am not compensated in the form of cash for my reviews. The opinions I have given are mine and may differ from others but are not influenced by the company or the free product provided.