Have I mentioned before that we are Classical Homeschoolers? Well now you know and knowing is half the battle :-) Currently we have students in all three levels of the Trivium: Grammar, Logic, and Rhetoric.  Recently we were offered to review the Art of Argument  from Classical Academic Press.  We were sent the student and teacher books as well as the DVD disk containing fallacy discussions  of the first 7-8 fallacies ($88.95).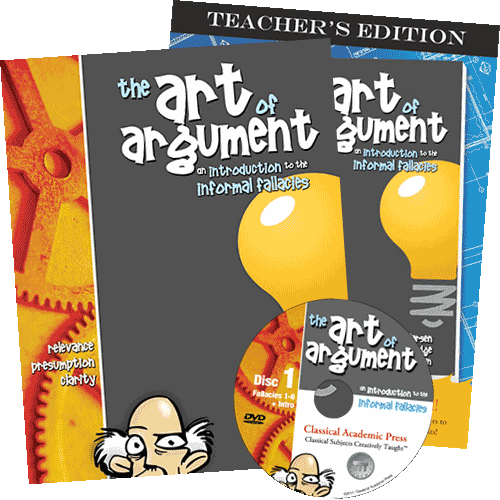 "Logic is a fascinating subject for students in middle school or high school. As a fundamental part of the trivium, logic study will impart to students the skills needed to craft accurate statements and identify the flawed arguments found so frequently in editorials, commercials, newspapers, journals and every other media. We regard the mastery of logic as a "paradigm" subject by which we evaluate, assess and learn other subjects–it is a sharp knife with which we can carve and shape all manner of wood. Mastery of logic is a requisite skill for mastering other subjects."                      ~ From Classical Academic Press
Thoughts from Marie:
I liked the examples of the different types of arguments and thought the examples were funny.  Overall it was easy to learn and fun at the same time. 
According to the Classical Academic Press website the Art of Argument text contains the following in order to teach the 28 fallacies:
Dialogues
Worksheets
Real-World Applications
Phony Advertisements
Dialectic Discussion Questions
Tests
Fun extras such as a humorous skit for students to perform, and the famous short story, Love is a Fallacy by Max Shulman
The Art of Argument has been revised to include:
Improved chapter and unit organization for greater ease of use
Fallacy explanations rewritten for clarity
Many added and updated examples
Ten new and revised advertisement illustrations
I used this study of Logic with Marie and it was fantastic! We were able to complete about two fallacies a week and she seemed to enjoy it which is always a plus! We will continue to use this book until the end of our school year and hopefully continue on with the next book.  We would recommend this program to anyone looking for a fun way to learn logic! Check out what my Crewmates thought by clicking, HERE.
Company ~ Classical Academic Press
Product ~ The Art of Argument, basic bundle
Price ~bundled price $88.95
~~~~~~~~~~~~~~~~~~~~~~~~~~~~~~~~~~~~~~~~~~~~~~~~~  I received the Art of Argument basic bundle, in exchange for a thorough and honest review. Though I am compensated with free products, I am not compensated in the form of cash for my reviews. The opinions I have given are mine and may differ from others but are not influenced by the company or the free product provided.