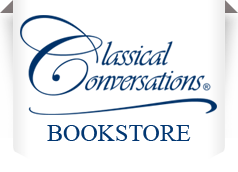 This review today is just for the homeschooling Mama's out there. Especially the ones with high school on the brink of the horizon. Its a scary place to be, trust me, I have been there myself and survived and so can you when you have the right guidance and help. I am pleased today to share with you Leigh A. Bortins of Classical Conversations new book, The Conversation.
If you are a long term homeschooler or a newbie alike I am sure you have heard of CC  and the Classical model of education that the group follows. Written by Leigh A. Bortins, a homeschooling mother of four boys with over 30 years of homeschooling experience, Mrs. Bortins formulates what is necessary to  stay the course and keep teaching your kids through high school.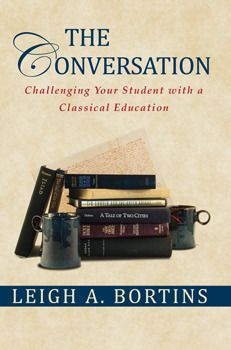 The Conversation, is actually the last book in a trilogy of books that focuses on classical education, and this book focuses on high school homeschooling, in particular, with an emphasis on teaching your children to become rhetorical learners
This soft cover, 267 page book is broken into 3 parts with pages filled with practical discussion and encouragement for the homeschool Mama helping to guide you through using the classical educational approach during the high school years.
The book is broken into three basic sections:
Part 1 – High School at Home
Part 2 – The Rhetorical Arts
Part 3 – The Appendices
Part One: High School at Home ~ This section is broken down into two chapters:
~ Confident Parents: helps guide you as your child's coach through the last four years of formal education. Homeschooling is a team sport and your goal as a parent is to contribute to their education in three ways: Authority, Habits, and Content.
~ Rhetoric Defined: this chapter helps you as the confident parent to overcome any obstacles you will face. Rhetoric stage is all about conversations and learning to express the truth.  In this chapter you will be equipped to learn how to apply the five canons, or the Standard of Excellence, to which the student should aim for in each subject.
The five canons are:
~ Invention
~ Arrangement
~ Elocution (style)
~ Memory
~ Delivery
Part Two: The Rhetorical Arts ~ Ten chapters guide the reader through a list of classes, subject by subject, that most Classical students study. This section goes in great detail on how to implement those five canons of rhetoric in the following subjects:

~ Reading
~ Speech & Debate
~ Writing
~ Science
~ Math
~ Government and Economics
~ History
~ Latin and Foreign Languages
~ Fine Arts
~ A special chapter on  Graduation is also included in this section.

Part Three: Appendices ~ Rhetorical games, devices, and resources. Also included in this section is a special section where real parents get to respond about their concerns, joys, and experiences of homeschooling through high school. This section is definitely one that should not be missed!
We must concentrate on training students in the art of asking good questions so that they can participate in lively conversations about big ideas.  

~The Conversation
As Classical homeschoolers I love this book! Even though I have just graduated my first student I have learned so much. We are about to embark on our second round of high school education and after reading this book, I can confidently say that I am fully prepared to battle the ups and down involved. I love how Mrs. Bortins says that "the responsibility of learning and engaging shifts to our students" as they enter the high school years.
I definitely think you should check this book out if high school is looming on your horizon. I would also recommend that you check out the other two books in this series, The Core and The Question for the Grammar and Dialectic stages. Also be sure to check out what my CrewMates had to say about this book by clicking the banner below.

Company ~ Classical Conversations
Product ~ The Conversation
Price ~ $16.00
Ages ~ Homeschooling Mama's