I attended my first homeschool convention in the summer of 2011 and stumbled upon a company called Home School in the Woods as I browsed the Vendor Hall. I hit the jackpot that day with this company and it has transformed our way of schooling ever since.
We had been studying composers with another method and honestly it was quite boring and not getting done. So we were truly blessed and fortunate to receive the Hands-On History Activity-Pak: Composers. We currently own many of Home School in the Woods products, so you can bet jumped at the chance to add another product to our collection.
From Bach to Chopin to Tchaikovsky to Berstein the Hands-On History Activity-Pak: Composers introduces you to 42 composers from the Middle Ages through Modern times. With 6 projects to complete and with over 90 minutes of music to listen to this is a thorough product that will keep your child asking for more.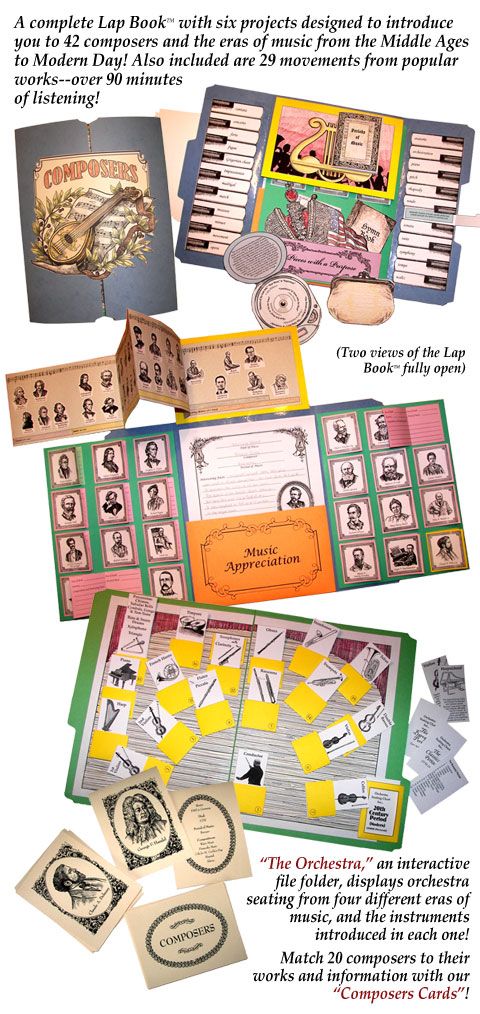 For this review I used the Activity-Pak with Madison & Mikayla. Like I said earlier, we had been studying composers so we were familiar with several to begin with so I decided that we were going to study 1 composer every two weeks, 2 days a week and go a little more in depth. On our bi-weekly trips to the library I made sure the girls knew which composer to search for books/media on so we would be prepared. I love that Madison & Mikayla took ownership of looking for the information and they have really impressed me with their knowledge of the two composers we have studied thus far, Ludwig van Beethoven and Peter Tchaikovsky.
Madison's thoughts: "I enjoyed this Activity-Pak  because you get to color and it is artsy".
Mikayla's thoughts: "I liked everything about this Activity-Pak but especially making the individual composer books".
Overall, I give this product 6 thumbs UP! If your children like to do crafty type of work then this is right up your alley. I wholeheartedly recommend you check out this Composer Activity-Pak if you are looking for a hands-on learning experience.  I will always recommend Home School in the Woods when someone asks me about hands-on learning.
Be sure to check out what my CrewMates thought by clicking on the banner below. Several products were reviewed including, Hands-On History Lap-Pak: The 20th Century in America and Great Empires.

*** Also, check out my other review on Hands-On History Lap-Pak: The 20th Century in America by clicking HERE
Company ~ Home School in the Woods
Product ~ Hands-On History Activity-Pak: Composers
Price ~ Instant download $18.95 or CD $19.95
Ages ~ Grades 3rd – 8th