While I do believe we are in a "good" place right now in our math studies, it is always nice to have a helping hand or another viewpoint. The last few weeks we have been using an online math program called A+ Interactive MATH by A+ TutorSoft, Inc. with Mikayla.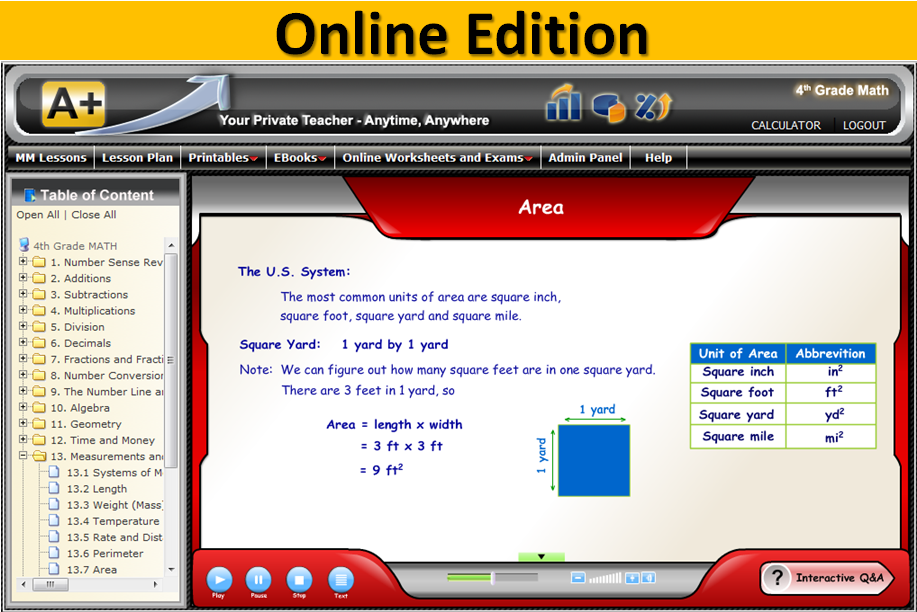 A+ Interactive MATH is an Interactive multi-sensory math curriculum for grades 1-6. The company also offer Pre-Algebra and Algebra programs too. available in online and CD versions, the program includes everything you need to get started from:
~ a curriculum guide
~ lesson plans for 32 weeks of instruction
~ printable workbooks
~ multimedia lessons with interactive questions and answers
~ complete solutions guide
~ exams and complete solutions
~ formula reference sheets
~ instant online grading and real-time feedback (online version)
With easy installation of the program you will be set to start within minutes of setting up your account. Each of the lessons were kept short, about 5 minutes, and contain both audio and visual aspects to each lesson. I was able to start Mikayla off in the multiplication section, multiplying 2-digit numbers. At the end of each lesson there is a short interactive quiz to check for understanding. I enjoyed this instant feedback part of the program.
The 4th grade program includes 16 chapters on:
1. Number Sense Review
2. Addition
3. Subtraction
4. Multiplication
5. Division
6. Decimals
7. Fractions and Fraction Operations
8. Number Conversions and Mixed Fractions Operations
9. The Number Line and Number Comparisons
10. Algebra
11. Geometry
12. Time and Money
13. Measurements and Conversions
14. Probability
15. Displaying Data Using Graphs
16. Word Problems and Problem Solving
One of my favorite parts of the program is the handy 9 page reference sheet that is included. I printed this out and have put it in sheet protectors in Mikayla's binder so that if she needs it it is there. It contains information on conversions and fact tables...very handy.
I was also able to utilize this program with my older daughter, Madison when she had a little trouble understanding how to calculate the area. The short interactive lesson on area was all that she needed and now she is good to go. Sometimes just seeing the information presented a different way helps tremendously.
Overall, I feel this is a complete and thorough math program that rivals other computer based programs. I am pleased with the progress Mikayla has made and we will continue to use this product for the duration of our subscription in addition to our current Math program. It is always good to have another point of view when learning math and so lifting concepts and I believe A+ TutorSoft helps us in doing that.
Be sure to check out the free one month trial offer listed on the website to see if this program is a good fit for your child. The free month is available either in CD format or online version. Online subscriptions for ONE child cost $19.95 per month, $49.99 per quarter, or $124.95 for a complete year. Right now,                     A+ TutorSoft, Inc is offering 50% OFF Special Promotion through the end of MARCH. Just Use the coupon code "SPOFFER50" to take advantage of this deal.
Click the banner below and read what my CrewMates thought of this program.

Company ~ A+ TutorSoft, Inc.
Product ~ A+ Interactive MATH, 4th grade online
Price ~ Online subscriptions for ONE child cost $19.95 per month, $49.99 per quarter, or $124.95 for a complete year.

Disclaimer: I received a one year subscription for A+ Interactive MATH, 4th grade from A+ TutorSoft, Inc. through the Schoolhouse Review Crew in exchange for my honest review. I was not required to write a positive review nor was I compensated in any other way. All opinions I have expressed are my own or those of my family. I am disclosing this in accordance with the FTC Regulations.