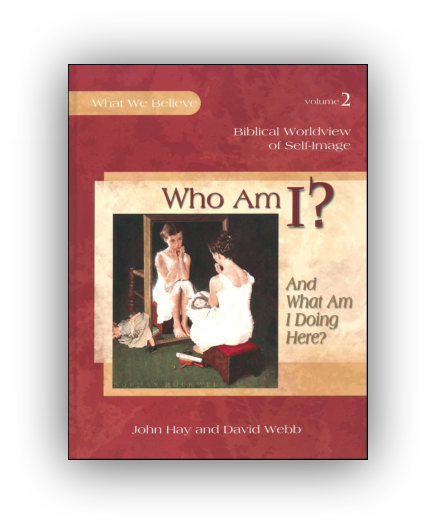 When most people hear Apologia's name mentioned they immediately think of their award winning science programs.  But did you know that they also offer excellent bible curriculum too? Last year I had the pleasure of reviewing the first book in the What We Believe Series, Who Is God. Now we were given the opportunity to review Who Am I? (And What Am I Doing Here?) and I am equally thrilled!
The second book in the What We Believe series, Who Am I? (And What Am I Doing Here?) helps children understand what it means to be fearfully and wonderfully made in the image of the Most High God. This study will enable students to develop a healthy self-image based on these biblical truths: God made me in His image and crowned me with glory; He has given me special gifts and a unique purpose in life; I can creatively express God's love; I am meant to think about beautiful and praiseworthy things, especially God and His Word; I must make decisions based on God's truth; I can always know the wise thing to do; I must cultivate the fruit of the Spirit in my life; I am a beloved child of God whose true identity is found in Christ.

                                                                          ~ from the website

So, what makes this program so great you ask?  Well for starters it comes with a recommended lesson plan. That is always a big plus in my book.  With these suggested lesson plans you can take anywhere from four to nine months to teach and complete the 8 lesson curriculum. This program is also ideal if you have several children on different grade levels as it is recommended for children ages 6-14.  You have the opportunity to beef it up or water it down as much as needed for your family.

Lessons Include:

What are we doing here?

What will you make today?

What's on your mind?

Can you trust your feelings?

Will you choose wisely? (Click to view sample lesson)

How will you run the race?

What kind of fruit are you growing?

Who do you think you are?

The beautiful hard-cover book retails for $39, while the student notebooking journal is $24.  Also available are the Who Am I? coloring book which is $8 and the Who Am I? Audio Book, MP3, CD is $19. The CD is an accompaniment to the book and is great for those who are auditory learners or for those who are busy and on the go.  We fall into this category and enjoyed listening on our 30 minute drives to gymnastics practices. The coloring book is nice to keep your younger students engaged and feeling involved.

Apologia's What We Believe Series has four books that can be taught individually and does not require any particular order. We read Who Am I as a family (or listened in the van on busy days. I really enjoy the What Will You Do
section throughout the book. This section gets you thinking and discussing about God and His word as it pertains to your life and situations.  We love all of Apologia's products; from their full Science programs, writing, geography, and acclaimed parent resources; and I am sure you will too, check them out!


Check out what my fellow Crewmates thought by clicking here.

Company ~ Apologia Educational Ministries, INC.
Product ~ What We Believe: Who Am I? (And What Am I Doing Here?)
Price ~ Hard-cover book, $39, student notebooking journal, $24, Who Am I? coloring book which is $8,  and the Who Am I? Audio Book, MP3, CD is $19.
Ages ~ 6-14
~~~~~~~~~~~~~~~~~~~~~~~~~~~~~~~~~~~~~~~~~~~~~~~~~ I received Apologia's Who Am I? book, lapbook journal, Audio CD, and coloring book, in exchange for a thorough and honest review. Though I am compensated with free products, I am not compensated in the form of cash for my reviews. The opinions I have given are mine and may differ from others but are not influenced by the company or the free product provided.